Boxing has become one of the most popular sports to bet on in the United States over the past few years. Social media stars such as Logan Paul and Jake Paul have brought new eyes to the sport, while legends like Mike Tyson have also got back into the ring, renewing interest from fans. Add in the fact that the sport has some of the most compelling champions in a long time in Canelo Alvarez and Tyson Fury, and the sport is in a very healthy place from a betting perspective.
I know that a lot of Americans place their first sports bet on high profile boxing matches. For this reason I wanted to add this page to provide you with all of the information you need to get started betting on boxing online. I've outlined three great sportsbooks for US residents, explained the various boxing bets you can make, and provided a simple three step guide you can follow to get your boxing bets placed right away.
Where To Bet On Boxing in America
These are our three recommended betting sites for US residents interested in betting on boxing online. All three sites are trusted and popular among American bettors.
Boxing odds can vary significantly between sportsbooks. I suggest comparing odds between betting sites in order to get the best return on your wagers.
Boxing Betting Options
The majority of boxing betting handle is bets on which boxer will win the fight. That said, there are a few other bets you can make on boxing matches including total rounds and method of victory. I will outline these bets, as well as the popular "to win" bet type below.
Money Line (To Win Fight)
The bet that takes the vast majority of betting handle on boxing matches is simply the "to win" bet. Also known as the money line, this is a bet on which boxer will win the fight. The odds for each fighter determine the risk vs reward for wagering on either boxer.

In this example Lomachenko is a -1100 favorite to win the fight. This means you would have to bet $1100 to win $100 betting on the Lomachenko. Richard Commey is the underdog with odds of +650, which means a $100 bet on Commey would win $650 if he pulled off the major upset.
Total Rounds (Over/Under)
The second most popular boxing bet is the "total rounds" bet, which is a wager on the length of the fight. The oddsmaker will set a "total" and you can bet on whether the fight will last over or under that many rounds.
You can see from the odds screenshot above that the over/under for the Lomachenko vs Commey fight is set at 9.5 rounds. If the fight lasts past halfway through the 9th round then over bets would win, but if either fighter gets the finish before that point, then under bets would win.
Method of Victory (Fight Outcome)
The most popular prop bet on boxing fights is likely the method of victory wager. With this bet you are wagering on the fight winner and how they will get the win. In boxing there will usually be five options: Fighter A by finish, Fighter A by decision, Draw, Fighter B by finish, Fighter B by decision.
Here's an example of the method of victory odds for the Lomachenko vs Commey from BetOnline.ag: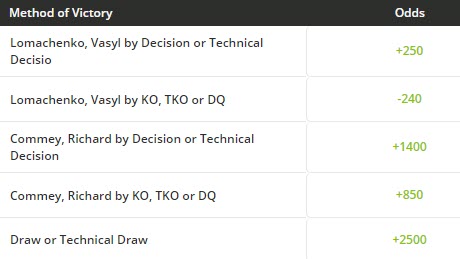 If you think Lomachenko is significantly better than Commey, then it may make sense for you to bet Lomachenko to win by KO, TKO or DQ at odds of -240, rather than simply betting Lomachenko to win the fight at odds of -1100.
The other popular prop bet for high profile boxing matches is round betting. With round betting you are betting on which fighter will win, and which round they win the fight in (or group of rounds). These bets can pay out big returns if you can correctly predict the exact round a boxer gets the finish.
How Bet On Boxing – 3 Step Guide
Follow these three steps to place your boxing bets online within minutes.
Step 1. Join An Online Betting Site
The first step is to open an account with an online sportsbook that accepts US residents. I've outlined three trusted and popular betting sites for Americans above.
For the remainder of this guide I will be using BetOnline.ag for all examples. They offer a huge selection of boxing bets at fair odds.
Click here to visit BetOnline.ag, select 'Join Now' on the home page and complete the sign up to open your account.
Step 2. Deposit
Next you will have to fund your account with the money you want to bet on boxing. After logging into your BetOnline account click on the 'Deposit' link, select your preferred deposit method and follow the instructions to complete your deposit.
BetOnline accepts Visa, MasterCard, American Express, Bitcoin, Ethereum, various e-wallets and more. Use promo code BOL1000 when making your first deposit to opt-in to the 50% up to $1000 first deposit bonus for new sign ups.
Step 3. Place Your Boxing Bets
It's time to place your boxing wagers.
Click 'Sports' from the top menu bar.
Open the 'Boxing' drop down menu and select 'Bouts'.
Select the odds of the boxer you want to bet on.
Enter your wager amount on the Bet Slip and click 'Place Bet' to lock it in.
That's it. You should now have your boxing bets placed. Click here to visit BetOnline.ag.
If you're new to betting and have more questions, check out our betting guide for some great articles for beginners.
Recent Boxing Betting Articles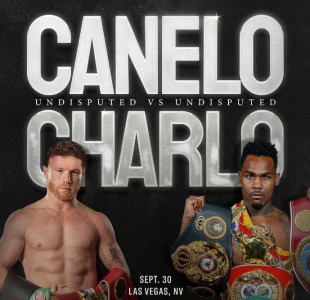 It's fight week! Canelo Alvarez will defend his undisputed super middleweight titles vs Jermell Charlo at T-Mobile Arena in Las Vegas this Saturday, September 30th. The event will be broadcast...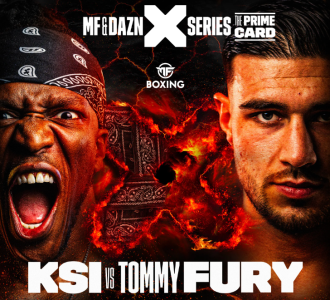 KSI and Tommy Fury will headline the MF & DAZN card on October 14th. The event will take place at Manchester Arena in England and will include a Logan Paul...