The NFL is the most bet on sports league in the United States. Betting on the games is part of the culture of the NFL among fans, with media members even talking about the spreads for each game and making picks against the spread to preview games. The passion of fans and the fact that each game is so important during an NFL season lends itself well to sports betting.
The 2023 NFL season will run from September 7th, 2023 to January 7th, 2024, with the NFL Playoffs beginning on January 13th and Super Bowl LVIII scheduled for February 11th, 2024 at Allegiant Stadium in Paradise, Nevada.
On this page I've provided a straight forward three step guide to help Americans quickly and easily get NFL bets placed online.
Follow this 3 step guide to get started betting on the NFL from anywhere in the United States.
Step 1. Open a BetUS.com Account
First you will have to open an account with a betting site that accepts American players. Check out our USA sportsbooks section for reviews of our three top rated betting sites for Americans.
BetUS.com is one of our recommended betting sites for Americans. They accept players from across the United States with no restrictions. That means regardless of what State you live in (New York, New Jersey, California, Texas, Florida, etc) you can bet on sports at BetUS.
BetUS is currently offering a 100% matching bonus up to $2500 for all new sports sign ups.
Click here to visit BetUS.com. Select 'Bet Now' on the homepage and fill out the short form to open your account.

Step 2. Deposit
Next you will have to deposit the funds you want to bet on NFL games.
After logging into your account click on the 'Deposit' button in the top right corner of the screen. Enter your deposit amount, choose one of the deposit methods and follow the instructions to complete your deposit.
BetUS.com accepts Visa, MasterCard, American Express, Bitcoin, Ethereum, other cryptocurrencies and more.
Step 3. Place Your NFL Bets
You're now ready to place your NFL wagers. To find the NFL betting lines at the BetUS website click on 'Football' from the sports menu in the Sportsbook, then select 'Game' from the selections under the 'NFL' header.
Here's an example of what the betting lines for an NFL game will look like:

The point spread, money line and total points betting lines are shown prominently for every NFL game. Check out our football betting page for a breakdown of each of these types of wagers with examples.
To actually place your bet click on the betting line you want to wager on and enter your risk amount on the Bet Slip. If you are happy with the risk and win amounts click 'Place My Bets' to lock in your wager. Here's a screenshot showing some of the clicks from finding the betting lines to actually placing your NFL bet.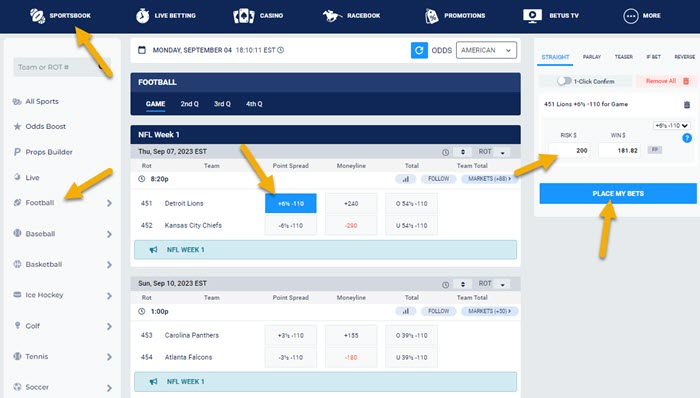 That's it. Follow those 3 steps and you will get your bets placed on the NFL.
Ready to bet? Click here to visit BetUS.com.