The 2022 FIFA World Cup is scheduled to begin on November 21st in Qatar, with the World Cup Finals taking place on December 18th. The United States will return to the World Cup this year after a successful qualifying campaign that saw them finish third in CONCACAF qualification to book their spot in this years tournament. The United States failed to qualify for the 2018 World Cup for the first time since 1986, so it will be good to see the US National Team back competing on the biggest stage in soccer.
On this page I will recommend an online sportsbook for World Cup betting, touch on the sports betting climate in Louisiana and Mississippi, outline some of the bets you can make on the FIFA World Cup, and provide a simple guide you can follow to bet on the World Cup online.
Best World Cup Betting Site for Americans
| Sportsbook | Rating | Bonus | Review | Visit |
| --- | --- | --- | --- | --- |
| | | 50% up to $1000 | Review | Visit |
BetOnline.ag is our recommended betting site for Americans interested in betting on the World Cup online, including anyone living in Louisiana or Mississippi.
World Cup Betting in Louisiana or Mississippi
Louisiana and Mississippi both have a form of regulated sports betting. I will take a closer look at the betting options for residents of both states below.
Louisiana launched regulated sports betting in January of 2022. There are currently six regulated and licensed sports betting apps available to Louisiana bettors.
Mississippi legalized sports betting way back in 2018. There are currently over 20 water and land-based casinos in the state, but all regulated sports betting must be done in-person at a licensed casino.
Mississippi residents interested in betting on the World Cup online must do so at an online sportsbook that is licensed and regulated outside of the USA. BetOnline.ag falls into this category as a popular betting site for Americans that is licensed and regulated in Panama. **Louisiana residents also have the option to place World Cup bets through offshore betting sites.
2022 FIFA World Cup Betting Options
First let's look at some of the popular bets you can make on individual matches at the World Cup. At the bottom of this section I will also outline some of the futures and props betting lines available at BetOnline.ag.
Here is a screenshot of the USA vs Wales World Cup match (odds taken on July 18th):
Spread
The first betting line shown for each match at BetOnline is the spread. In the case of USA vs Wales the betting line is equivalent to a 'Draw No Bet' wager. You can bet on either the USA or Wales and if they win then your bet would payout. If the match ends in a draw then the spread bets would be refunded.
Other matches will have different spreads. For example, Portugal is a -1 goal favorite vs Ghana in their opening match. Portugal would have to win by 2 or more goals for spread bets on Portugal to payout. If Portugal won by 1 goal then the spread bets would push.
Because the USA vs Wales match is lined evenly the spread is 0, so it becomes a 'Draw No Bet' wager.
Money Line
The second column in the above screenshot shows the money line odds for the USA vs Wales match. This type of bet is also referred to as match betting, to win, or 1×2. It's simply a wager on the outcome of the match.
In the above example a $100 bet on the USA would win $145 (payout $245) if they won the match.
Total
The final column shows the over/under betting line. The total is set at 2 goals for the USA vs Wales match and you can wager on whether the number of goals scored in the match will be over or under this number.
If 3 or more goals are scored the over bets would win, if 1 or fewer goals are scored the under bets would win, and if exactly 2 goals are scored all total bets would push and be returned.
Futures & Props
BetOnline.ag also has a wide variety of futures and prop betting lines available for the World Cup. Here are some of the betting options available:
World Cup Outright Winner
To Reach Finals
To Reach Semi-Finals
To Reach Quarter-Finals
To Win Group
To Advance From Group
Top Goalscorer
Top Team USA Goalscorer
Group Points Over/Under for Various Teams
Stage of Elimination for All Teams
Bet On The World Cup Online – 3 Step Guide
Follow this three step tutorial to bet on the FIFA World Cup from anywhere in Louisiana or Mississippi.
Click the above link, select 'Join Now' on the home page and complete the sign up form to create your account.
Step 2. Deposit
After logging into your BetOnline account click on the 'Deposit' button, choose your deposit method, enter the deposit amount, and follow the instructions to fund your account.
BetOnline accepts Visa, MasterCard, American Express, Bitcoin, Ethereum, and various e-wallets.
Step 3. Place Your FIFA World Cup Bets
It's time to place your World Cup bets:
Select 'Sports' from the top menu bar and '2022 World Cup' from the left sidebar.
Select 'Group Stage' for individual match odds and '2022 World Cup Futures' or '2022 World Cup Specials' for futures and props.
Select the odds of the bet you want to make to add it to your Bet Slip.
Enter your risk amount on the Bet Slip and click 'Place Bet' to make your wager.
Here's a screenshot example showing a bet on the Netherlands in the opening World Cup match: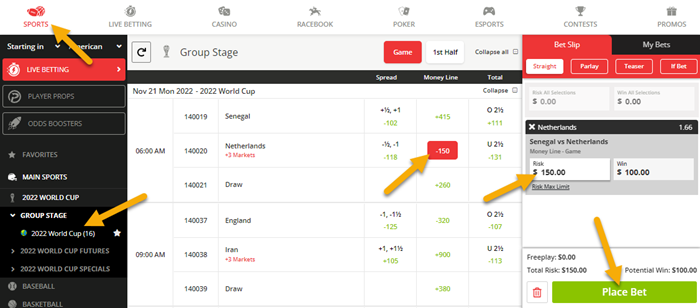 Ready to bet? Click here to visit BetOnline.ag.